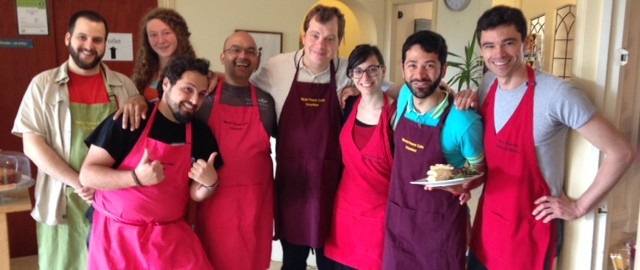 Cafe opening: The World Peace Café in Leicester is open 10.30am to 4.00pm Mondays to Saturdays (we are closed first Monday of each month)
Our vegetarian / vegan World Peace Café in Leicester offers a peaceful environment to unwind and chat to friends. It is quickly becoming the place to meet for lunch in Leicester.
We serve Lavazza coffee, organic teas and indulgent cakes, we also have a range of gluten free cakes.
World Peace Café, 17 Guildhall Lane (opposite the rear of the Cathedral), Leicester, LE1 5FQ
Meditation and meal evening
Once a month we hold a special meditation and meal evening. Increasingly popular these evenings give a wonderful opportunity to relax with a guided meditation and then enjoy a 4 course vegetarian meal in our World Peace Cafe. Details are here.
Great lunch stop, wonderful atmosphere, loved it!
I love the atmosphere here and feel instantly relaxed as soon as I walk in.
Went there for the first time yesterday and was taken back by the relaxed atmosphere, variety of the menu, the size of the portions (big) and the quality of the ingredients used.
Really good wholesome food.
Our World Peace Cafe is a vegetarian establishment and run by volunteers so if you have some free time and would like to help with the running of the cafe or helping in the office, no matter what skills you have, you can help, in exchange for four hours help per week you can attend the meditations classes run in the evenings or attend or lunch time meditations, free of charge .We will train you in all the skills that you need to become a part of a amazing team of people. Working in a peaceful environment has plenty of benefits, if you are interested, please come and see us or phone or email.