Welcome to Nagarjuna Kadampa Meditation Centre, Leicester.  Our meditation centre is based in the heart of Leicester City Centre and provides accessible Buddhist teachings for the busy modern world.
This information pack should provide you with all the information you should need to plan your stay with us.  
About us
Nagarjuna Kadampa Meditation Centre Leicester, was established to provide people in Leicester and the surrounding areas with the opportunity to learn how to meditate and practice Buddha's teachings.  It is a special place of tranquillity, relaxation, reflection and friendship.  It is home to an international community who share a similar wish to make their lives meaningful by finding lasting peace and happiness from within, and helping others to do the same.  
Travelling to Nagarjuna Kadampa Meditation Centre, Leicester.
Our meditation centre is 10 minutes' walk from the train, and 5 minutes walk from "St Margarets bus station", and provides links to and from most places in the UK.  Our centre is opposite Leicester cathedral which makes it really easy to find.  Please use the following websites to plan your transport to us;
PLEASE NOTE:  Megabus from Fosse Park is not walking distance to the centre, however buses and taxis are available from this area. 
Please see the following maps which show how to arrive from both the bus and train.

From Leicester Train Station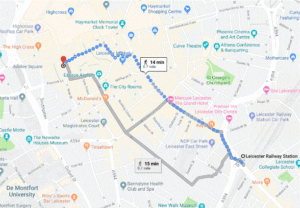 From Leicester Bus Station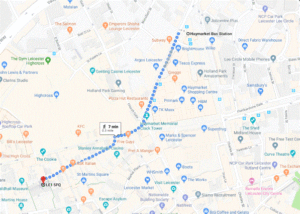 Accommodation
Whilst staying with us, you will be expected to stay in shared accommodation with people of the same gender.  Currently, our volunteers stay in bunk beds with 4 sharing a room.  All rooms have en-suit bathrooms. You will be provided with bedding, and towels with access to free laundry facilities.
Types of Work
Volunteer hours are 32.5 hours per week (9.30am-4.30pm including a 30 minute break) with 2 rest days per week which are Sundays and Mondays. 
Whilst of our volunteers are  usually in our busy city centre World Peace Café, we sometimes require help in the office, reception, and general maintenance of the building.  We ask that you please be as flexible as possible with the types of work you may be given. 
What we provide
In return for your time, we provide the following;
Vegetarian Food:  we provide lunch from our café; and then we have a volunteer kitchen where vegetarian food is provided for you to make your own breakfast and dinner/snacks. 

Accommodation (including bedding and towels) Shared with up to 4 people

Tea and coffee facilities

Laundry facilities

 Wi-Fi internet access

Access to all of our  meditation classes and courses
Conditions of Stay
Because we are a Buddhist centre, we have special rules that we believe help to develop a more peaceful mind.  We ask that whilst you stay at our meditation centre, you try your best to observe these rules. They are;
No lying – Be honest and true at all times.  Not only to others, but also to ourselves.

No Killing – Respect every living being, including animals. 

No Stealing – Don't take anything that belongs to somebody else, unless it is given to us.  

No Sexual Misconduct – Don't engage in any sexual activity that causes harm to another person.

No Intoxicants – Don't consume any intoxicants.  This includes alcohol, tobacco, and drugs. 
We hope this has given you all the information you need for your journey.  If not please email us or call us on the number below.  Please also check out our website for more information about our centre.
We are really looking forward to meeting you.
Wishing you a very safe journey.