A Special Study & Meditation Class
Study the book Joyful Path of Good Fortune.
Wednesday Evenings at 7.00 pm – 9.00 pm
With Resident Teacher Kadam Chris Heyes
The Foundation Programme is a specially designed study class that functions to increase our understanding and deepen our experience of Buddhist meditation.
"The purpose of meditation is to make our mind calm and peaceful, if our mind is peaceful we shall be free from worries and mental discomfort, and so we shall experience true happiness; but if our mind is not peaceful, we shall find it very difficult to be happy, even if we are living in the very best conditions. If we train in meditation, our mind will gradually become more and more peaceful, and we shall experience a purer and purer form of happiness. Eventually, we shall be able to stay happy all the time, even in the most difficult circumstance" Geshe Kelsang Gyatso.
If you wish to go deeper in your understanding and practice you can join the Foundation Programme (FP).  FP is a fully structured study programme designed by Venerable Geshe-la to enhance our understanding, experience, and practice of meditation, giving us great confidence to solve all our problems and experience deep and lasting happiness. You can join at any time and receive great benefits. The study class is open to everyone.
Joyful Path of Good Fortune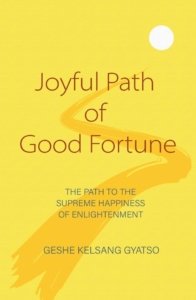 Starting on 5th September, we will be studying this clear and comprehensive explanation of the entire path to enlightenment. We all have the potential for self-transformation and a limitless capacity for the growth of good qualities, but to fulfill this potential we need to know what to do along every stage of our spiritual journey. With this book, Geshe Kelsang offers us step-by-step guidance on the meditation practices that will lead us to lasting inner peace and happiness. With extraordinary clarity, he presents all of Buddha's teachings in the order in which they are to be practised, enriching his explanation with stories and illuminating analogies. This is a perfect guidebook to the Buddhist path.
Course Fees
The study programme is open to everyone and is from 7.00 pm – 9.45 pm every Wednesday. When joining this course you would need to enroll as a gold monthly member.  If you are interested in enrolling or require further information about this membership, or you would like a three week trial period (£10 pay as you go) you can contact the Education Programme Coordinator on 0116 262 0317 or by email
( Please call reception 01162620317 and ask for Agnes the Education Programme Co-ordinator to discuss a 3 week trial at the cost of £10 a week )